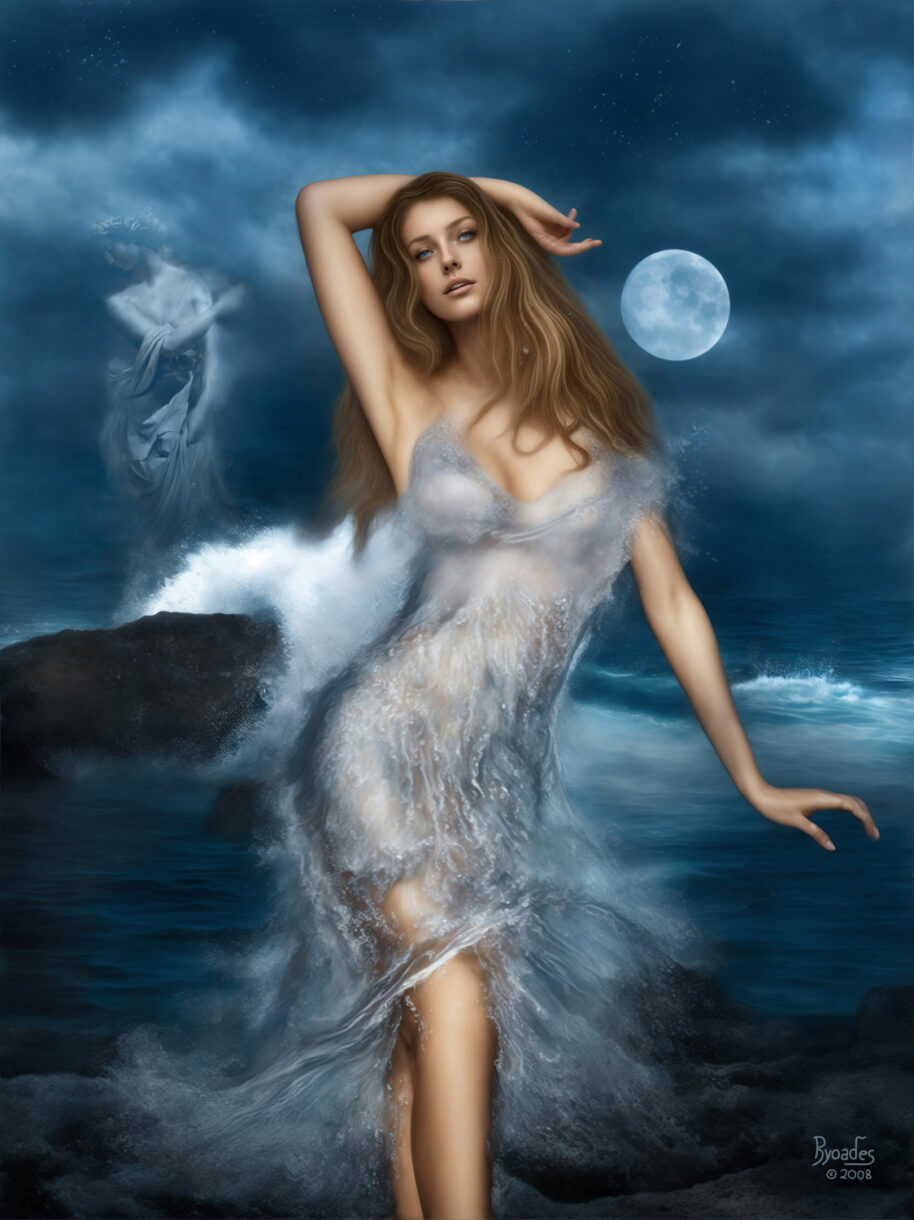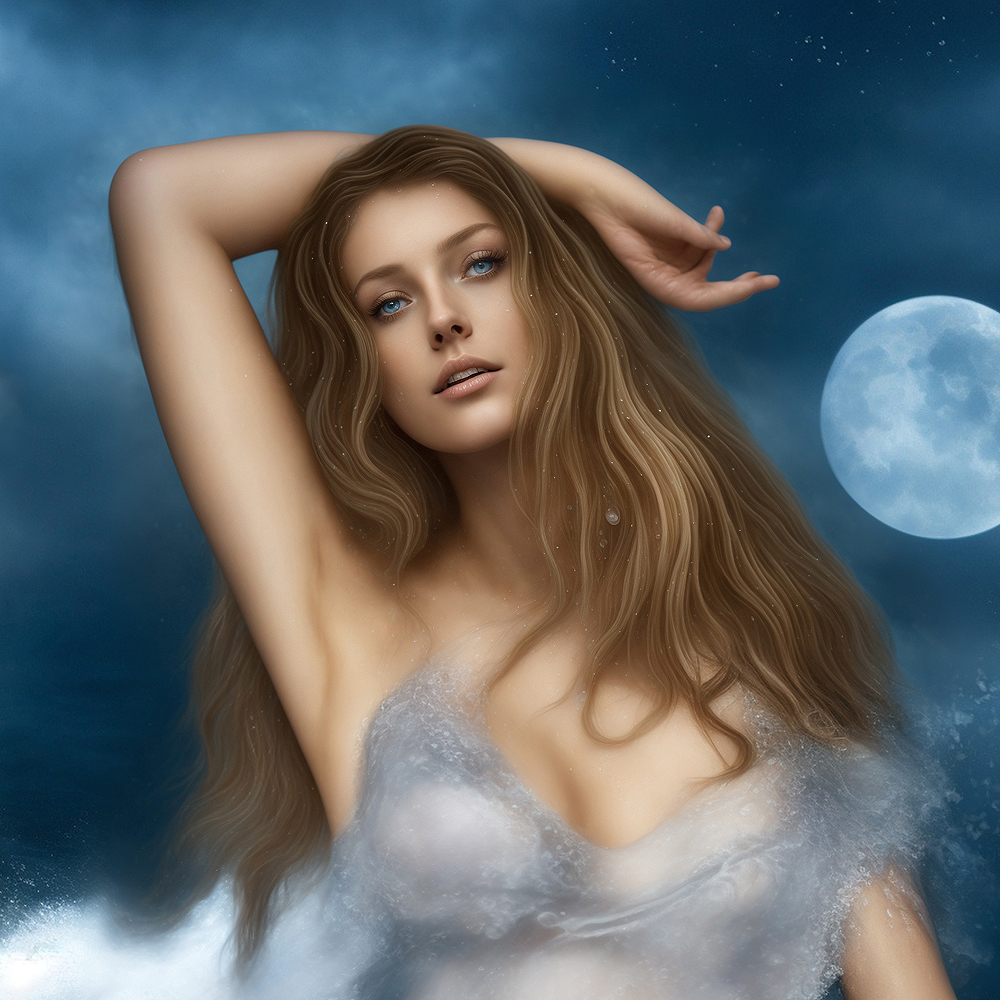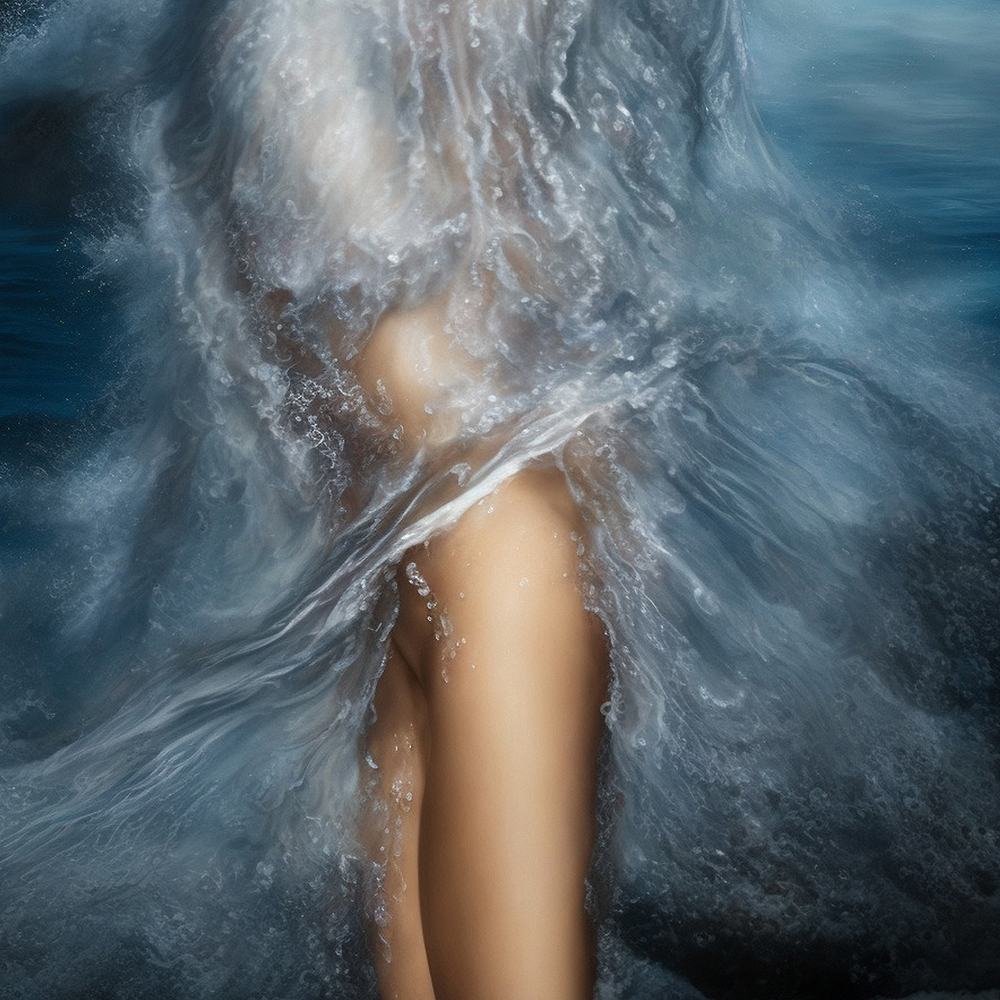 Aquarius - The Stone of Pyrrha
"...Zeus his anger over the human race was infinite, and so he sent
the Deukalian flood to the sinful humanity out.
Prometheus however, ordered his son Deukalion to build a ship
To himself and his wife Pyyrha to save.
After the flood deukalion the orakel surveyed by Themis to know
What to do to the Earth re-populate ...
Deucalion and Pyrrha threw from the mother Gaia and the rocks
Equal to the bone, a stone behind and formed the new so -
Human Race. Deucalion created the man and Pyrrha created the women ..."
The second zodiac signs, Aquarius, or even Wassermann.
The ideas, as well as the stories about the zodiac signs, reflect both the mythical background again and my free interpretation. The issue at Aquarius itself, is the whole story (and not just Deucalion) lined shapes in the eventual creation of the woman by Pyrrha ...
Difficulty of this work, and also the aim was to make the movement of the water and dance to the woman with a blend into the background.
Photoshop, Wacom Cintiq 12WX
Skin and face optimization with leonardo ai RPG Filter
approximately 40 working hours
About feedback I would be pleased.
Questions to the work and idea are gladly answered.
Aquarius - Der Stein der Pyrrha
"...Zeus sein Zorn über die Menschheit war unendlich und so sandte er die deukalische Flut, um die sündige menschheit auszulöschen. prometheus jedoch, befahl seinen Sohn Deukalion ein Schiff zu bauen um sich und seine Frau Pyyrha zu retten.
nach der Flut befragte deukalion das orakel von Themis um zu wissen was zu tun sei, um die Erde wieder neu zu bevölkern...
Deukalion und Pyrrha warfen aus der Mutter Gaia und den Felsen gleich den Knochen, ein Stein hinter sich und formten so das neue Menschheitsgeschlecht. Deukalion erschuf den Mann und Pyrrha die Frau..."
Das zweite Tierkreiszeichen, Aquarius oder auch Wassermann.
Die Ideen als auch die Geschichten zu den Tierkreiszeichen, spiegeln sowohl den mythischen Hintergrund wieder, als auch die eigene freie Interpretation. Die Thematik zu Aquarius selbst, ist der gesamten Geschichte (und nicht allein Deukalion) zugewandt und formt sich in die letztendliche Neuschaffung der Frau durch Pyrrha...
Schwierigkeit bei dieser Arbeit und auch Ziel war es, die Bewegung des Wassers und des Tanzes um der frau mit den Hintergrund verschmelzen zu lassen.
Photoshop CS3, Wacom Cintiq 12WX
Haut und Gesichtoptimierung mit leonardo ai RPG Filter
ca 40 Arbeitsstunden
Über Feedback würde ich mich freuen.
Fragen zur Arbeit und Idee werden gerne beantwortet.
---